Education

Overview
Building on your experience and the analysis of your personal management style, this program will help you confidently make the shift from managing to leading. You will foster the skills needed to drive performance, orchestrate change and develop your team. You will learn how to manage conflict more effectively and greatly improve your ability to influence others. You will also acquire executive memory techniques for speaking without written notes as well as remembering names and faces.  In short, you will learn to manage people, resources, and self!
What To Expect
Achieve greater team synergy and effectiveness
Cope with different and sometimes difficult team members
Conduct crisp, successful interviews by applying the nine-step coaching model
Identify the key factors contributing to employee engagement
Cope successfully with complainers and those who will not communicate
Course Details
Building on your experience and the analysis of your personal management style, this program will help you confidently make the shift from managing to leading. You will develop the skills needed to drive performance, orchestrate change and develop your team. You will learn how to manage conflict more effectively and greatly improve your ability to influence others. In short, you will learn to manage people, resources and self!
To be effective, today's manager must get the best possible performance from subordinates, control conflict and know how to delegate, not only work, but responsibility. Additionally, the successful manager must demonstrate expertise in strategic planning and organization, and must have possession of those skills and qualities that afford control in a stressful and changing environment.
This carefully tailored pragmatic course will deliver the tools and knowledge you need to be more effective in both your professional and personal life. You will improve your communication skills at all levels and will form winning strategies for dealing with different and sometimes difficult people. You will adopt effective strategies for influencing others and thereby improve workplace relationships with colleagues, subordinates and senior management. You will learn how to become more successful getting work done with and through others.
You will improve your memory skills to a remarkable degree; enabling you to deliver speeches and presentations without the need nor the desire for written notes, improve incredibly your ability to remember names and faces as well as develop systems for remembering dates, appointments and what you read. You will learn to manage projects, priorities and deadlines while maintaining a stress-free work environment. At this intensive program you will develop the essential skills of highly effective leaders.

Download Brochure | Banff Management Website




Cultural Leadership - November 10, 2019 - June 11, 2020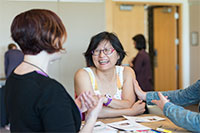 Learn to navigate the complexity of – and explore leadership within – the Canadian arts and culture sector. Through on-site intensives over seven months, this program in collaboration with the National Theatre School builds skills, networks, and knowledge to help leaders make a lasting impact. Significant funding is available.

Business and Leadership Programs – (formerly known as Professional Programs, Government Studies)
Business and Leadership Programs provides the educational requirements for the Society of Local Government Managers. The successful completion of these programs provides members with the opportunity to apply for professional accreditation and use of the designation Certified Local Government Manager (CLGM). For more information.

Additional Educational Opportunities for Alberta Students - Dalhousie University
Municipal managers, administrators and local government staff members in Alberta will now be able to enroll in in NACLAA Levels I and II through Dalhousie University.
Students currently taking NACLAA courses from another academic institution are able to transfer completed courses, and receive credit for these completed courses, towards the appropriate Dalhousie University NACLAA certificate.
For more information click here | Course Descriptions | To register click here |
"Make a leadership difference"
The Local Government Leadership (LGL) Institute is dedicated to helping civic officials make a leadership difference in local government throughout Canada and overseas.
Local government officials do not gain legitimacy through a license to practice like a medical doctor. It comes from adding value to local government processes and community futures while rooting themselves in professional values.
The term 'leadership' was rarely used to describe either the political or managerial imperatives of local government. Now, perhaps the most important and commonly-shared understanding in the sector is that high-quality leadership is vital. It is the key to the continued improvement of the sector and its credibility and reputation with the public it serves.
The LGL Institute was established to assist civic officials in building their professional leadership competencies. Alumni of LGL programs have become a network world-wide sharing their challenges, expertise and success with others to transform their communities
Local Government Leadership Insitute
Phone: 250 727 0156
Cell: 250 881 0761
Fax: 250 727 0124
E-Mail: gmcintosh@lglinstitute.com
Executive Certificate in Local Government Leadership –
The Political/Administrative Alignment Imperative
Join your peers and civic thought leaders to discuss contemporary matters facing elected and appointed executives in local government. Past success does not guarantee future success in dealing with emerging governance trends and the dynamic political/administrative interface. This unique ten-week, online program starting March 23, 2020 will cover challenges and emerging practices for role clarity, decision making, public communication, strategic direction and council/staff relations. The Program Facilitator - Gordon McIntosh, PhD & CLGM has received wide acclaim for providing dynamic training sessions involving 140,0,000 civic officials and staff throughout Canada and overseas.

Read more about the Political/Administrative Alignment Imperative
Royal Roads University, situated in Victoria, British Columbia, is offering an MBA in Executive Management for educational administrators.
The Royal Roads MBA is flexible and is designed for mid-career professionals currently involved in administration, educational, business or support functions in public or private institutions or organizations.
The two-year program is delivered through a combination of Internet-based distance learning and three short (three week) intensive residency sessions.
In addition to the core MBA curriculum, the program includes an organizational consulting project and four full-course specialized options in educational administration and management.
For more information, please access the RRU website at www.royalroads.ca/learnmore or e-mail learn.more@royalroads.ca. The toll-free telephone number is 1-877-778-6227

Olds College
It's Here, Hot off the Press!
Twice annually, we produce our Olds College Continuing Education Academic Calendar which outlines our many short courses, distance and online learning opportunities, as well as our corporate training offerings. Hot off the press, we are proud to offer you our Fall-Winter Calendar, which term runs from now until December, 2019.

There's plenty to see, so just click on the cover image below and let us take you away!
Questions? Give us a call toll-free at: 1-800-661-6537
Register today!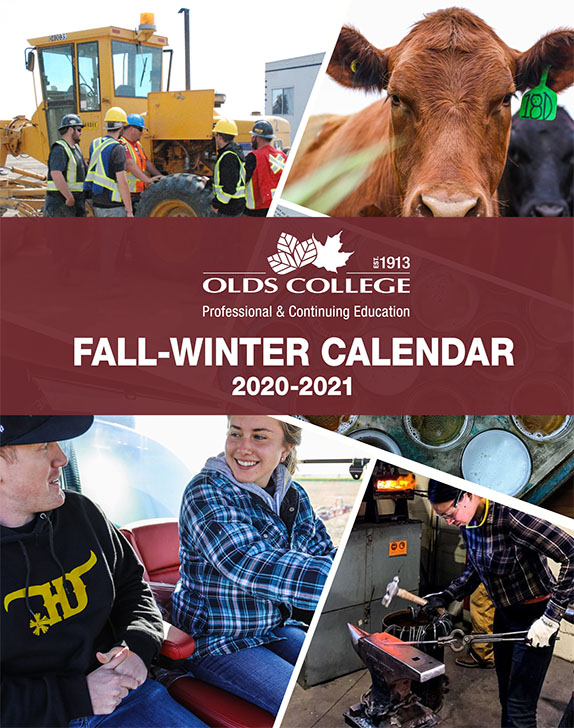 www.foundationofadminjustice.ca
By using this web site you have access to:
Detailed information on the Foundation's extensive offering of administrative justice courses
The individual course registration forms and fee information
Information about the advantages of becoming a member of the Foundation
Biographies of the group of instructors used by the Foundation.
Information on the Board of Directors and the bylaws of the Foundation
Information regarding the annual training conference


Welcome to Alberta's Peer Network
You're constantly working to bring diverse groups of people together and get the job done.
The Peer Network for Dispute Resolution is a partnership that has created a group of peer mentors who municipal leaders can contact to obtain advice and/or assistance to help address local issues. Partnering organizations, including AAMDC, the Alberta Urban Municipalities Association, the Local Government Administration Association, and the Alberta Rural Municipal Administrators Association each have two mentors representing their association. Other partners that help guide the program include Alberta Municipal Affairs, the Society of Local Government Managers, and the Alberta Arbitration and Mediation Society.
Municipal disputes are a unique blend of issues and personalities. Municipal leaders who have successfully resolved disputes are in the best position to offer advice about the challenges of finding solutions that benefit all involved.
Consider calling one of our peer mentors. These senior leaders can talk to you about your unique situation, suggest alternatives and give you a hand when you need.